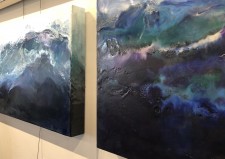 Dallas Art Gallery & Recording Studio Unite Artists at Art Gallery Pure to Benefit Ocean Conservancy
DALLAS, October 17, 2018 (Newswire.com) - Art Gallery Pure and CakeMix Recording, a Dallas recording studio, located at 17817 Davenport Road, Suite 110, Dallas, Texas 75252, is hosting an art show and silent auction, October 19th, 6:00-9 PM, to benefit Ocean Conservancy.
GEODES Exhibit explores the ever-changing climate of our planet's greatest resource, our oceans. The series of mixed media paintings, photography and sculptures included in GEODES series provide an avenue for donations to assist Ocean Conservancy in protecting our planet's greatest resource, our oceans. Programs of Ocean Conservancy include Restoring the Gulf of Mexico, Confronting Ocean Acidification, Ocean Climate, Protecting the Arctic, Smart Ocean Planning, Sustainable Fisheries, and Trash Free Seas.
Texas Artists featured by Art Gallery Pure include Dallas Artists Julia Ross, and Austin Artist Jan Witten Sewall
"It is an honor to provide a venue for these talented Texas artists to come together and share artwork, photography and sculpture to benefit and assist Oceans Conservancy in protecting our oceans," said Lisa Faulconer Owner CakeMix Recording.
ARTIST STATEMENT
Julia Ross, Mixed Media Artist:
FULL TRANSPARENCY - GEODES Series
Astoundingly beautiful, full of life, with unimaginable depth, the ocean inspires creativity.  
GEODES is part of the Full Transparency series, paintings and sculptures demonstrating grounding jewels to build strength of powerful design elements. The art series features images of silence through transparent colors to display a calm during the rush.  
"The encaustic paintings, photography and geode sculptures bring me to a place away from everyday reality to relax in the flow of artistic work. The colorful paintings offer a grounding path to light," said Julia Ross, Artist.
Donations to support the cause are accepted at the door. 10% of art show and auction proceeds will go to benefit Ocean Conservancy.  
OCEANS Exhibit is open October 19 - December 14 at Art Gallery Pure.
About Art Gallery Pure
A Dallas Art Gallery, curated by artists. GALLERYPURE provides affordable artwork by emerging artists to professional artists works. Buy original artwork, limited edition prints, commission artwork of artists or visit the gallery at 17817 Davenport Road, suite 110 in Dallas. Artwork, including paintings, sculptures and photography are available for purchase online at https://artgallerypure.com
About CakeMix Recording
CAKEMIX RECORDING works with production companies from coast to coast and around the world mixing projects and creating sound design for television, film, radio and video games. The company was founded in 1998 as a Dallas area Recording Studio, offering professional recording services and audio post-production to talented bands, musicians and production companies. The recording studio provides a comfortable, creative and professional environment, with professional, accredited, and experienced staff of musicians, composers, and audio engineers.  Visit https://www.cakemixrecordingstudio.com for more information on services and community events.  
Press Contact
Lisa Faulconer
972-8181649
lisa@faulconer.com
Source: Art Gallery Pure
Share: