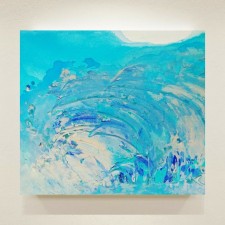 Texas Artists Unite to Benefit Those Affected by Hurricane Harvey via art show featuring art and photography of featured artists in Dallas and Austin, Texas.
DALLAS, TEXAS, October 18, 2017 (Newswire.com) - CakeMix Recording, a Dallas Recording Studio, located at 17817 Davenport Road, Suite 110, Dallas, Texas 75252, is hosting an art show, October 20, 2017, 6-10 PM, to benefit those affected by Hurricane Harvey.  
Over 100,000 homes were affected by Hurricane Harvey, according to NPR.  Dallas Morning News reported, "The U.S. shed 33,000 jobs in September because of Hurricanes Harvey and Irma, which closed thousands of businesses in Texas and Florida and forced widespread evacuations. It marked the first monthly hiring decline in nearly seven years."
"It is an honor to provide a venue for these talented Texas artists to come together and share work to support residents and business owners affected by the hurricane.  Many of the artists have family in Houston and South Texas, with businesses also affected by the storm," said Lisa Faulconer Owner CakeMix Recording.
Texas Artists featured include Dallas Artists Suzy Moritz-Rawdin and Julia Ross, Dallas Photographer Julie Shields, and Austin Artists Robin Hegemier, Janell Oakes, and Sheri Devino.  
ARTISTS STATEMENTS
Sheri Devino, Mixed Media Artist:  ​Strata
"A tree, the earth, the atmosphere, life, a good story...they all have layers. My Strata series are layers of paint, mark making and collage on papers. Stripes from those larger sheets and other found papers form layers to tell stories. These stories express my fondness for the natural world with all its complexities."
Robin Hegemier, Water Media Artist: Raised in a Barn 
"When others view my work, I want them to feel a sense of ease or fun in the painting. At the same time, I want to draw them into the art with a curious desire to look a little closer. My personality is straightforward and happy, so most of my painting reflects that as well. Although most of my pieces are representational, I enjoy incorporating a bit of an abstract slant, bold colors, or a sense of amusement into my paintings."
Suzy Moritz-Rawdin, Mixed Media Artist
A native Texas Artist, my interest in art started at an early age, when she began to see the world in shapes of light and shadow.  My impressionistic paintings have evolved by putting the dynamic, dramatic elements on canvas of those reflections, capturing the mood of the spirit. 
Janell Oakes, Mixed Media Artist:  ​Re-collection
The rapid pace of technological advancement is astounding. Each new version of the phone/computer in my pocket renders old technology obsolete. This series is a collection of everyday household items from the past, once essential, now absent. My paintings are densely layered with acrylic, collage and pastel. However, the finished pieces evoke quick sketches from memory, slightly skewed by the haze of nostalgia.
Julia Ross, Mixed Media Artist: Ocean 
Sitting on the beach, breathing the sea air, listening to the waves roll in, viewing all variation of color that no man could recreate. The ocean series of encaustic, acrylic and ink paintings bring me to a place, away from everyday reality to relax in the flow of artistic work. The colorful paintings exude happiness.
Julie Shields, Photographer
I love traveling across the South with my camera in hand. It's such a unique landscape everywhere you turn. Whether it be the wide open night skies of Texas, the Spanish moss hanging from a large live oak in Georgia, or a meandering tidal creek who's path you want to take in Charleston, I love remembering all of these special places through the photos that I've taken along the way.
Event Tickets can be purchased online at https://lis916.wixsite.com/hurricaneharvey for $12 or $15 at the door.  100% of the ticket proceeds will go to benefit Hurricane Harvey victims through donations to Saint Andrew UMC SparkTank Project for Hurricane Harvey victims.  Artists will make individual donations to the cause, through event artwork sales.  Saint Andrew United Methodist Church in Plano, Texas is matching up to $1000 in donations.
CAKEMIX RECORDING (https://www.cakemixrecordingstudio.com) was founded in 1998 as a Dallas area Recording Studio, offering professional recording services and audio post production to talented bands, musicians and production companies. The recording studio provides a comfortable, creative and professional environment with experience for creative recording, mastering and audio production.
Source: CakeMix Recording
Share: