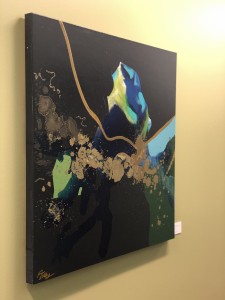 Dallas Art Gallery & Artists Unite to Show Common Passion for Art Therapy
DALLAS, February 26, 2019 (Newswire.com) - A new location of Living Well Dallas opens with an art gallery, curated by Art Gallery Pure. The new art gallery hosts over 100 pieces of emerging to professional artists, including paintings, sculptures and photography of DFW artists.
The value of art in health and wellness, including art therapy, is a common interest among the artists featured by the Living Well Dallas Art Gallery. For many of the accomplished Texas artists, art is an escape from everyday life - a happy place. The new art exhibit demonstrates this happy place extends to Living Well Dallas.
The benefits of art are not only reaped by the artists, but more and more corporate environments value what art brings to the workplace, way beyond its prestigious appeal.
"Including original artwork in the design of corporate environments has proven to be a positive distraction, increasing productivity and contributing to a more creative and collaborative environment," Julia Ross, Art Gallery Pure Artist & Art Gallery Curator.
"It is an honor to provide a venue for these talented artists to come together and share our dedication to our substantial local art scene," said Betty Murray, CEO & Founder of Living Well Dallas "Displaying local art can bridge the gap between the corporate environment and its proximate cultural roots, and show pride for our home city of Dallas."
Texas Artists featured include Dallas - Fort Worth artists Darya Farral, Julia Ross, Julie Dailey, Kim Ward, Toni Grandell, Veronika Bobakova and photographers Dan Leffel, Dee Hill, Jay Gibson, and Tim Drake.
Artist Statements
Julia Ross, Artist & Art Gallery Curator:
"I cannot imagine life without art. It is sight, sound, and space of our very existence. Art is healing and inspiration, the initiation of communication and catalyst for the progress of humanity."
Jay & Bethlyn Gibson, Photography Contributors:
"Our photography takes us to places we might not otherwise visit and allows us to see and experience, first through the lens and then through print, the beauty and grandeur of our world. We strive to capture images that will reflect that beauty and remind us of how grateful we are."
Julie Dailey, Artist:
"Painting allows me to step out of myself and my world for a short time. I can lose myself for hours working on a piece. It is the only time I can completely shut off my mind which has a tendency to go 90 miles an hour at any given time in this crazy overstimulated world."
Toni Grandell, Artist:
"When you share your art...you are sharing a part of your being, your soul. When your art is understood, in other words... they "get it".. then there is a true connection."
Dee Hill, Photographer:
"I create art through photography because it captures the way I see the world and people around me. I never had a choice to create art or not; it's just something that I do. Photography is a very magical medium; I call my camera "the magic lantern" because it can stop time and make moments in time immortal, that's a very spiritual thing for me personally. Sometimes after a shoot, when I sit down to look through the images, they reveal things even I was unaware of when I was shooting the image. They reveal energy and things that are very telling and sometimes curious! I am very grateful to be a visionary, a channel and an observer in this life. It's quite a gift; I try to be a good steward of it."
Darya Farral, Artist:
"My paintings are a huge part of self-realization. If there is a painting idea born inside me, how can I not help it become alive? Through the meditative process of meticulous painting, my vision of the world beauty becomes a reality. Other people always see my paintings differently, and always have different favorites - I find this variety of opinions fascinating."
Tim Drake, Photographer
"For me, photography is not so much about creating as it is about capturing. Beauty is all around us; people, man-made things, God-made things. Photography has made me more aware of all the beauty in this world, and I feel more connected to it. Capturing and preserving beauty is so satisfying. Working on my photos is therapeutic and brings me tremendous joy."
The new location of Living Well Dallas opens with the new art gallery on Thursday, Feb. 28 with a reception from 5:30 P.M. - 8:30 P.M. at 17000 Preston Rd Suite 400 Dallas Texas.
About Art Gallery Pure
A Dallas Art Gallery, curated by artists. Art Gallery Pure provides affordable artwork by emerging artists to professional artists works. Buy original artwork, limited edition prints, commission artwork of artists or visit the gallery at 17817 Davenport Road, suite 110 in Dallas. Artwork, including paintings, sculptures, and photography are available for purchase online at https://artgallerypure.
About Living Well Dallas
Living Well Dallas – Functional Medicine Center is designed to provide a full-service functional medicine and lifestyle medicine together with mind-body-medicine under one roof. The company has created a professional, multidisciplinary, collaborative team to provide a 360 degree, science-based, full-service experience. Services include cutting-edge medical diagnostic testing and treatment to functional clinical nutrition testing to determine how to bio-individualize treatment to the latest in mind-body treatments such as LED therapy for neuropathy and pain. Living Well Dallas provides health and life coaching, counseling or Bowen Therapy and Brain Tap therapy for stress relief and more – to work as a team to help the patient achieve maximum health and wellness.
Source: Art Gallery Pure
Source: Art Gallery Pure
Share: